About Your Build-A-Boat Plans
Build-a-Boat have over 600 basic designs in our portfolio of boat plans, many of them allowing substantial variations of form and material. Sourced from many Australian and a few overseas designers they offer a rich variety of craft to choose from. We pride ourselves on the quality of our plans and our personal after-sales service.
The amount of detail in each set of plans will vary with the complexity of the design but our priority is always to place them within the capability of the amateur boat builder/skipper. Our Resident Naval Architect is available for help and advice.
The set of drawings for each design can vary from a single sheet to more than a dozen, plus any full size patterns for frames, stem, etc. The sheets are usually folded to A4 size and packed together with building instructions, materials list and any welding schedules for steel or aluminium designs. If preferred you can ask for the plans to be posted in a cylinder, but this will cost a little more.
Because this collection was started in 1946 by Norm Hudson many of the older designs have dimensions in feet and inches. These have now had metric equivalents added (in brackets) for those of us who are not so ambidextrous.
Lofting, which is the expansion of the "Table of Offsets" or the scale 'lines" to full size drawings, can be daunting for the amateur. Many of our designs have full size patterns available so little or no lofting is required. Those that do need lofting have metric measurements to help in the fabrication of frames and stem.
Study Sets of many of the larger designs are available. These include drawings of General Appearance and General Internal Layout, and a Materials List. This allows you to judge both the suitability of the vessel's accommodation and its practical and financial feasibility. Fitting out and finishing requires a surprising proportion of the cost. Better to downsize the dream before starting construction than end up with just the bare hull!!
Purchase of the full set of plans includes a license to build one boat only. If you want to build more than one boat, a further royalty is payable.
Please enquire for our generous quantity discounts.
Acacia Construction 585 T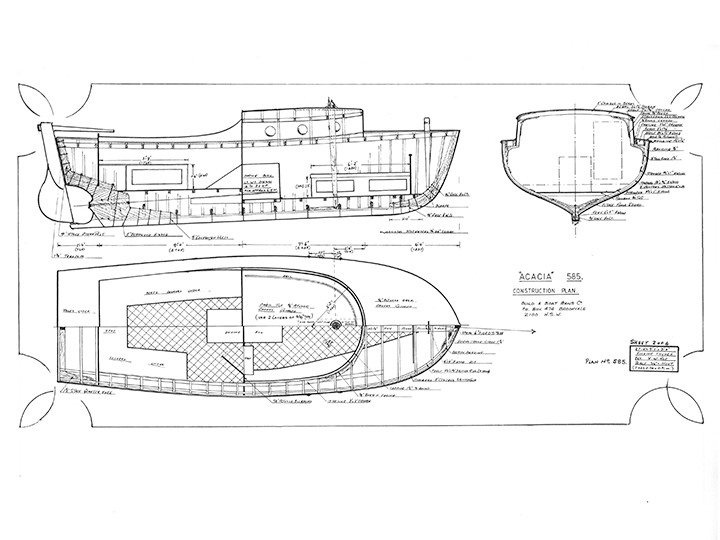 Acacia Frame 585 T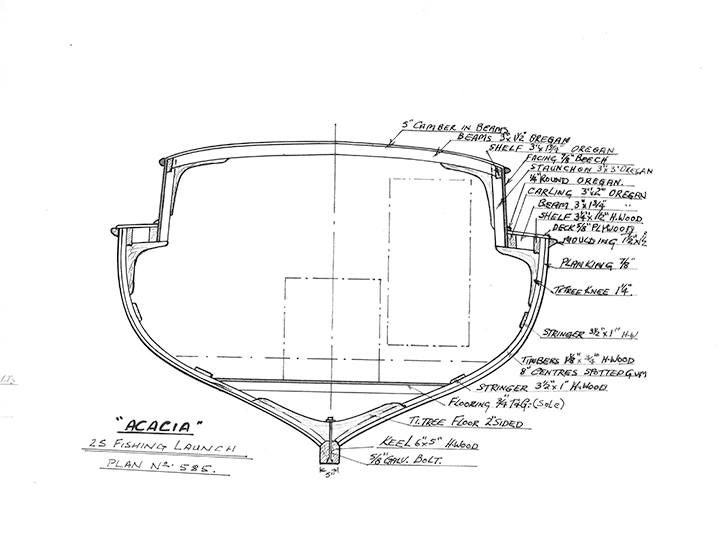 Constalation 55 T Frame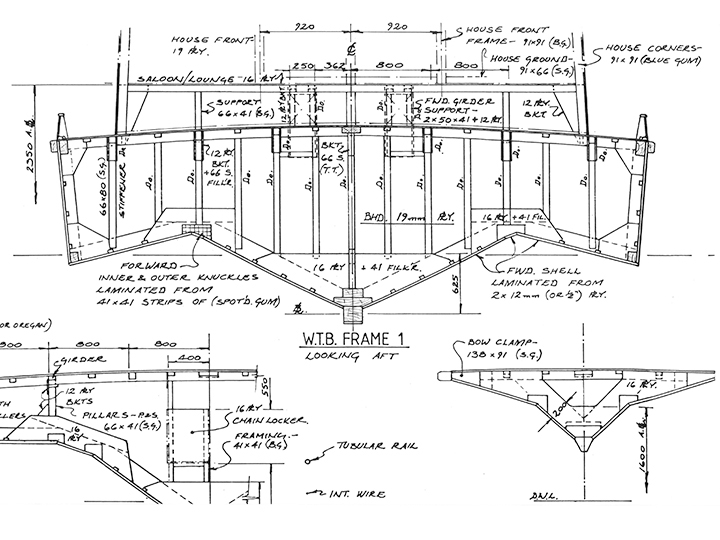 Sea Scout 589

Sea Scout a 589